ADVANCED LEADERSHIP
Go above and beyond the First Aid Leadership program by registering for our Advanced Leader-ship courses. Keep things exciting and get certified as an Aquafit Instructor! No prior experience is necessary: Our dry-land BCRPA Fitness Theory course covers the mechanics behind move-ment and exercise for a complete understanding of how to guide to your clients through your class safely. You must pass the BCRPA Fitness Theory Exam in order to participate in the Aqua-fit Module.
The Aquafit Module is a fun, energetic course that will teach you how to weave your fitness theory knowledge into a high-energy, multi-levelled Aquafit class suitable for all ages. Get paid to break a sweat, and advance your aquatic career with our Advanced Leadership courses!
Register online today
.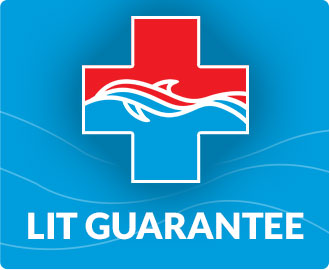 National Lifeguard Instructor (NLI) Training
Keep expanding your skill set and learn to teach the next generation of lifeguards with National Lifeguard Instructor certification through LIT. Once certified, NL Instructors can teach any NL option they hold, and may also be invited to provide specialty training at in-service training ses-sions and act as mentors to new lifeguards.
BCRPA Fitness Training Course - Become A Certified Personal Trainer
Combine your BCRPA Fitness Theory achievement with our Personal Training module to inspire others to reach their fitness goals. This course covers advanced weight training techniques, fitness assessment, advanced program design, nutrition, health screening, professional ethics and business practices, and legal liabilities.
First Aid Leadership Courses
For further specialty training is the first aid sector, LIT is now proud to work with the Red Cross to provide you with an advanced leadership training program to qualify you as a First Aid In-structor. See more information
here
.
BCRPA Fitness Theory
MORE INFO
You are required to write the national theory exam directly after completing the BCRPA Fitness Theory course and before you register for your specialty module (ie Aquafit). The exam is a separate fee of $70 and is payable to BCRPA and can be written by contacting BCRPA directly.

Manual fee is not included in the cost of the course. You can borrow one from a friend or purchase one from your instructor on the first day of the course (Body Blueprint).
BCRPA Aquafit Instructor
MORE INFO
The Aquafit Instructor course will teach you how to use the swimming pool to design safe, effective and fun aquatic fitness classes in both shallow and deep water. Course content includes principles of water, use of music and equipment, class design and injury prevention.
National Lifeguard Instructor Recert
Lifesaving Instructor TRAINER Recert
How to Become a Lifeguard