Water Safety Instructor (Step 2)
The Water Safety Instructor course (WSI) is the final stage in the Swimming Instructing stream. It is designed to build on the previous knowledge learned in the WSI Prep course and introduce candidates to the specific programs that they will be teaching. The WSI course instruction will include lesson planning, effective evaluation and Swim Preschool, Swim Kids and Teens/Adults programs. Other topics will include instructional emergency response skills and continued development of progressions, drills and teaching strategies. Candidates will complete a Core course component in addition to a Peer Teaching component.
WSI certification is worth two grade 11 high school credits.
***If you have taken WSI Step 1 with another organization (not LIT) please contact us to ensure equivalency as courses may differ in other municipalities.***
For information about COVID19 protocols, facility openings and award expiry extensions, please visit our Facebook post: https://bit.ly/3iAoa0q
Prerequisites: 15 years old AND Water Safety Instructor PREP (Step 1) (Completed within the past 6 months)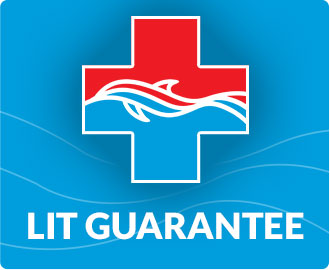 How to Become a Lifeguard