Bronze Medallion/Cross COMBO
The Bronze Medallion/Cross Combo is designed for candidates that want to complete the first 2 courses of their Lifeguarding certifications in one compact course. This course is designed for candidates that are 13 years and older with the ability to swim. Candidates will develop proficiency in First Aid, Water Rescue, Fitness and decision-making skills with a focus on performing low risk rescues. This course will include a 600m Timed swim that our instructors will help prepare you for.
The Bronze Cross portion of this course is worth TWO (2) Grade 11 High School Credits and is the required pre-requisite for the National Lifeguard program.
Course Manual will be required to be purchased from the instructor at some course locations.
(Courses can also be taken individually: Bronze Medallion ONLY or Bronze Cross ONLY)
For information about COVID19 protocols, facility openings and award expiry extensions, please visit our Facebook post: https://bit.ly/2UW07Qr
Prerequisites: Ability to swim AND Bronze Star or 13 years old by last day of the course AND a Whistle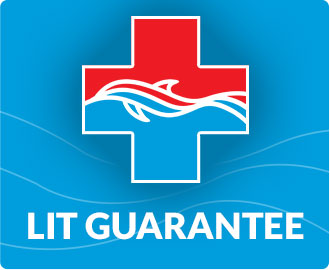 How to Become a Lifeguard