FIRST AID AND LIFEGUARD RECERTIFICATION
Lifeguard and Instructor Recertification
Working lifeguards and swim instructors are required to keep their awards current. Lapsed awards could result in lost working hours, so make sure you recertify before the expiry date. The NL Pool and Waterpark Options, WSI and LSI must be renewed every two years.
First Aid Recertification
All of LIT's first aid courses expire three years after the completion date. Some professionals, such as lifeguards, must re-certify sooner. Please check with your organization to confirm certificate recertification requirements.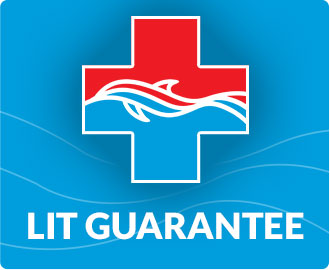 NL Pool Option Recert
MORE INFO
Candidates who complete the recert course successfully will be recertified in their NL Pool Option certification for an additional 2 years. The first half of the course will be the PRECERT portion and will include education on new information and practice sessions. This is designed to make candidates successful in the RECERT portion. In the RECERT portion candidates will be required to perform their physical standards and complete simulations/management items to acceptable standards.

This course does NOT qualify for the LIT guarantee.

For information about COVID19 protocols, facility openings and award expiry extensions, please visit our Facebook post: https://bit.ly/3iAoa0q

Completion of the FastTrack AMOA course must be completed prior to coming to the course: https://lifesavingsocietybcyk.thinkific.com/courses/amoa. You will be required to pay an additional mandatory testing fee ($15) to your instructor to complete the certification at the time of the course.
NL Waterpark Option Recert
MORE INFO
Candidates who complete the recert course successfully will be recertified in their NL Waterpark Option certification for an additional 2 years. This recert will include practice sessions and updated information to assist candidates in being successful. In the RECERT portion candidates will be required to perform their physical standards and complete simulations/management items to acceptable standards.

This course does NOT qualify for the LIT guarantee.

For information about COVID19 protocols, facility openings and award expiry extensions, please visit our Facebook post: https://bit.ly/3iAoa0q

Water Safety Instructor Recert
MORE INFO
Candidates who complete the recert course successfully will be recertified in their Water Safety Instructor certification for an additional 2 years. This recert will include updates to the Red Cross Swim program and will allow candidates to develop their teaching ideas and techniques further through peer teaching sessions. Candidates will be required to perform swimming strokes to a Swim Kids 10 standard during the course.

This course does NOT qualify for the LIT guarantee.

For information about COVID19 protocols, facility openings and award expiry extensions, please visit our Facebook post: https://bit.ly/3iAoa0q

Lifesaving Instructor Recert
MORE INFO
Candidates who complete the recert course successfully will be recertified in their Lifesaving Instructor certification for an additional 2 years. This recert includes updates to the Canadian Swim Patrol and Bronze programs and will allow candidates to gain new ideas to teach material. Candidate will be required to complete a water portion that will include peer teaching/demonstration of skills.

This course does NOT qualify for the LIT guarantee.

***THIS COURSE IS REQUIRED FOR ALL LIFESAVING INSTRUCTORS BY JAN 31, 2021, EVEN IF YOU AWARD WILL NOT YET BE EXPIRED***

Course Fee includes the $42 Candidate Fee.

For information about COVID19 protocols, facility openings and award expiry extensions, please visit our Facebook post: https://bit.ly/3iAoa0q
CPR Level C/AED Recert
MORE INFO
Candidates who complete the recert course will be successfully recertified in their Canadian Red Cross CPR C certification for an additional 3 years. The course will include updates to the CPR program and require candidates to display their hands on skills through practice sessions. Some industries require candidates to recertify every 1 or 2 years, so please confirm with your employer and recertify early if needed. CPR Level HCP is also available by request.

***If CPR HCP is required after March 31, 2019, you will need to take a Basic Life Support course, also offered through LIT)***

This course does NOT qualify for the LIT guarantee.

For information about COVID19 protocols, facility openings and award expiry extensions, please visit our Facebook post: https://bit.ly/3iAoa0q
Basic Life Support Recert
MORE INFO
The Basic Life Support course is designed to build participant confidence in performing cardiopulmonary resuscitation (CPR) skills and provide the important steps to perform a rapid assessment, perform Basic Life Support (BLS) skills, and perform rapid defibrillation.

This course is designed for PROFESSIONALS in the health care field (ex. In-facility care providers, including nursing staff, care aides, medical and dental professionals. Pre-hospital care providers, which may include professionals in a fire service, rescue team, sports-medicine, lifeguards and ski patrol).

This course will certify participants for 1-year and will require a re-certification prior to expiry date.

***Airway Management and Oxygen Therapy is not included as part of this course***

For information about COVID19 protocols, facility openings and award expiry extensions, please visit our Facebook post: https://bit.ly/3iAoa0q
Emergency First Aid CPR C/AED Recert
MORE INFO
Candidates who complete the recert course will be successfully recertified in their Canadian Red Cross Emergency First Aid certification for an additional 3 years. The course will include updates to the CPR and EFA programs and require candidates to display their hands on skills through practice sessions. Some industries require candidates to recertify every 1 or 2 years, so please confirm with your employer and recertify early if needed.

This course does NOT qualify for the LIT guarantee.

Emergency First Aid (as of September 1, 2018) is also an equivalent award to OFA 1 and is recognized by WorkSafe BC to be used in the workplace. If you require this equivalency, you MUST take the full 8 hour EFA course (Recerts are not eligible).

For information about COVID19 protocols, facility openings and award expiry extensions, please visit our Facebook post: https://bit.ly/3iAoa0q

Standard First Aid CPR C/AED Recert
MORE INFO
Candidates who complete the recert course will be successfully recertified in their Canadian Red Cross Standard First Aid certification for an additional 3 years. The course will include updates to the CPR and SFA programs and require candidates to display their hands on skills through practice sessions. Some industries require candidates to recertify every 1 or 2 years, so please confirm with your employer and recertify early if needed.

This course does NOT qualify for the LIT guarantee.

Standard First Aid Recert (as of September 1, 2018) is also an equivalent award to OFA 1 and is recognized by WorkSafe BC to be used in the workplace.

For information about COVID19 protocols, facility openings and award expiry extensions, please visit our Facebook post: https://bit.ly/3iAoa0q

Standard First Aid & BLS Recert
MORE INFO
The Basic Life Support / Standard First Aid course is designed to build participant confidence in performing cardiopulmonary resuscitation (CPR) skills and provide the important steps to perform a rapid assessment, perform Basic Life Support (BLS) skills, and perform rapid defibrillation.

This course is designed for PROFESSIONALS in the health care field (ex. In-facility care providers, including nursing staff, care aides, medical and dental professionals. Pre-hospital care providers, which may include professionals in a fire service, rescue team, sports-medicine, lifeguards and ski patrol).

This course will certify participants for 1-year and will require a re-certification prior to expiry date.

***Airway Management and Oxygen Therapy is not included as part of this course***

For information about COVID19 protocols, facility openings and award expiry extensions, please visit our Facebook post: https://bit.ly/3iAoa0q
How to Become a Lifeguard