LIFEGUARD & FIRST AID TRAINING & CERTIFICATION
LIT offers all the first aid and lifeguard courses you need for a fulfilling career in aquatics, with facilities in Vancouver, Surrey, Burnaby, Richmond, Langley, Abbotsford, Port Coquitlam, Mission, West Vancouver and White Rock.
LIT offers the full range of required lifeguard certification courses. Candidates as young as nine years old can start building their aquatic careers with prerequisite courses.

Learn the basics of CPR, more advanced emergency or standard first aid, or learn how instruct first aid courses yourself. LIT also offers recertification courses for all programs.
FIRST AID AND
+
LIFEGUARD TRAINING
LIT has set the standard of excellence in lifeguard and first aid training for more than 20 years. Our exceptional team is committed to developing your technical skill sets while building confidence and leadership qualities.
Operating throughout the Lower Mainland, LIT strives to ensure success for each of our candidates, including meaningful long-term employment in their chosen field. And it doesn't stop there: LIT offers support to students throughout their careers in aquatics and first aid.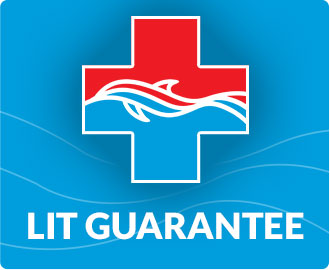 TESTIMONIALS
One of the most interactive first aid courses I've taken

AJ, Emergency First Aid course - Fleetwood

My instructor was patient and professional, but that never distracted from the humour, enthusiasm and fun of each lesson

Jonah, WSI Prep - Jewish Community Center

Instructors are willing to help and make the classes very fun. They also make sure information is easy to understand and help us during practical work

Eugenie, Standard First Aid - Fleetwood

I really enjoyed this course. The instructors are very knowledgeable and super fun. This course included a lot of tactile experience which is awesome

Caroline, Standard First Aid - Fleetwood

Super impressed with the sanitation and safety measures taken. Every effort was made to ensure that students experienced minimum exposure. I will recommend LIT to anyone looking to take a first aid course

Savannah, Standard First Aid - Fleetwood

I really liked the creative ways in which we went through the material as a group, it helped recall the information well

Danielle, Standard First Aid Recert - Jewish Community Center