WSI PREP/Water Safety Instructor COMBO
This 40+ hour all inclusive course covers the requirements of completing the WSI Certification (Screen, Teaching Experience, Online component and Pool/Classroom component). Candidates will learn the foundation of instructional skills including teaching methods, learning styles, physical principles, progressions, communication, safety supervision and feedback. Candidates are evaluated during eight hours of assistant teaching and through individual study assignments. Upon successful completion, candidates are certified as Water Safety Instructors. To remain valid, Water Safety Instructor status must be recertified every two years. Bring a bathing suit, towel, pen, paper and lunch.
Teaching Experience will NOT be included in courses during COVID19. LIT will assist in setting this up when restrictions lifted.
**Bring a tablet or laptop**
For information about COVID19 protocols, facility openings and award expiry extensions, please visit our Facebook post: https://bit.ly/2UW07Qr
Prerequisites: 15 years old, Red Cross Swim Kids level 10 skills or equivalent AND Bronze Cross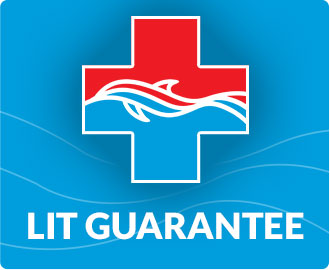 How to Become a Lifeguard